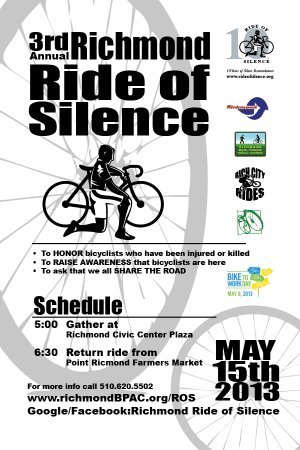 What: Third Annual Richmond Ride of Silence
When : Wednesday, May 15, 2013
Time: 5:00 - 5:30 p.m.
Where : Richmond Civic Center Plaza - Pt. Richmond
Info: Mike Uberti email phone: 510-629-5502

Click here for route map, full details, schedule , fliers


Description: A somber, slow & quiet ride to honor those who have been seriously hurt or killed in car/bike collisions while bicycling in Richmond more...

To our local bike shop, The Pedaler , thank you for your generosity!!!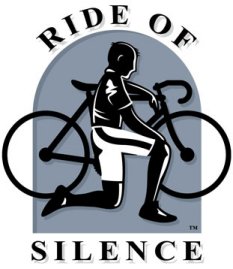 What: 2nd Annual Richmond Ride of Silence
When: May 16th, 2012
Where: 4:30 pre-ride from Catahoula
5:00 Official Start from Richmond City Hall 450 Civic Center Plaza, Richmond, CA.
Details: Click here for map and further details
Flyer: Download PDF here (1MB) English & Spanish
Ride with Mayor Mclaughlin on a somber, slow & quiet ride to honor those who have been seriously hurt or killed while cycling in Richmond. The pre-rede will stop at 33rd and Barrett to honor Juan Godinez Garcia slain in a hit-and-run on 4/11/2012 on his bicycle..
The ride will traverse areas that the City of Richmond is planning to improve in order to be safer for cyclists.
The ride, which is held the week following Bike to Work Day during National Bike Month , aims to raise the awareness of motorists, police and city officials that cyclists have a legal right to the public roadways.
Unsafe road conditions which have led to tragedy.


Richmond SPOKESHOP Grand Opening
When : Sunday, October 2 4:00-9:00 pm
Where: 322 Harbour Way #5 Richmond, Ca 94801
SPOKES is more than a bike shop. It is a movement to provide safe clean transportation, reduce obesity, prevent diabetes, encourage social interaction, and spur economic development in a city that has so much hidden beauty.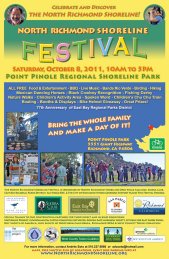 Free BBQ, Music, Horses, Kid's Bike Helmets and much much more at a friendly, festive gathering

What: North Richmond Shoreline Festival -
Date: Sunday Oct. 8, 2011
Time: 10:00 am -5:00pm
Place: Point Pinole Regional Shoreline; 5551 Giant Highway, Richmond, CA 94806
Poster: Click here for the colorful poster
Details and to volunteer: Click here

Festival participants are those who work towards the well-being of the community, the environment and the local ecology, holding the principle of universal access to the sacred beauty of natural habitats to be an innate right for folks of every age and ethnic origin.
Environmental Review
The City has entered into a contract with LSA Associates Inc. to complete the CEQA Environmental Review of the Bicycle Master Plan and Pedestrian Plan. The City and LSA has prepared an Initial Study Checklist and a Draft Mitigated Negative Declaration.

Review and Comment Period: Comments on the Draft Mitigated Negative Declaration must be received by 5:00 p.m. September 19, 2011 , at the following address:

Kieron Slaughter, Assistant Planner
City of Richmond
Planning & Building Services Department
450 Civic Center Plaza, 2nd Floor
Richmond, CA 94804

Report Availability: Copies of the Initial Study and Draft Mitigated Negative Declaration are available for review at the following locations: Richmond Public Library, Main Branch, 325 Civic Center Avenue, Richmond, CA 94801; and the City of Richmond Planning & Building Services Department, City Hall, 450 Civic Center Plaza, Richmond, CA 94804
What: Bay Trail Bicycle Birding With Golden Gate Audubon
When: Oct. 23, 2011

Meet-ups:
8:35 am at the El Cerrito Del Norte BART Station
9:00 am on the SF Bay Trail near the end of S. 51st Street in Richmond
10:30 am at the parking for the Richmond Landfill Loop Trail at1 Parr Blvd, Richmond

Join Leader Kathy Jarrett to bird along the SF Bay Trail in Richmond and end with the Landfill Loop. All levels of birders and bicyclists welcome. Bicycle helmet required. T he leaders plan to arrive by BART at the El Cerrito Del Norte station and may return to the Richmond BART station.
What: Caltrans revised Highway Design Manual released for comment
When: Comments are due by July 8, 2011
Click here to view the proposed changes

The California Department of Transportation (Caltrans) has revised the Highway Design Manual (HDM) pursuant to our Complete Streets deputy directive.
Questions and comments:
Terry L. Abbott , Chief Design Division Office: 916 654-3858 Cell: 916 799-4108
Tim Craggs , Assistant Division Chief Design Division O: 916-653-1027 C: 916-275-2890
Kevin Herritt , Chief, Office of Geometric Design Standards Design Division O: 916-653-0253
What: The Alameda County Transportation Commission (formerly ACTIA) will be hosting several Association of Pedestrian and Bicycle Professionals APBP webinars. Richmonders are invited.
When: the 3rd Wednesday of the month
Time: from 12:00 to 1:00 p.m.
Where: 1333 Broadway Suite 300, Oakland, CA
Contact: Seung Cho (510) 208-7472 (direct) scho@alamedactc.org

5/18/2011: Using Social Media to Improve Bicycle and Pedestrian Facilities
6/15/2011: Bicycle and Pedestrian Facility Design within a Constrained Right-of-Way
7/20/2011: Crosswalk Policies, Designs and Signals
8/17/2011: Designing and Retrofitting Bridges for Active Transportation
9/21/2011: ADA Compliance: Self-evaluation and Transition Plans
10/19/2011: Multimodal Level of Service
11/16/2011: Parking: Buffers, Bikes and Cars
12/21/2011: Accessibility in Work Zones
Installation by activist artist Ai Weiwei, shamelessly "disappeared" by the Chinese police.
Go here to see footage and read the press coverage.
Go here to learn how to become involved in getting the word out.
Update: Weiwei has been released, and a documentary will be relased at the 2012 Sundance Festival.
What: Draft 2011 California's Manual of Uniform Traffic Control Devices (CA MUTCD) is open for public review and comment
Where : Click here for documents and directions on how to submit comments.
When: Deadlines are staggered in May, 2011 as described on the webpage .

The draft of the California MUTCD 2011 document is now open to the public for review and comment This manual sets the standards for signs, signals, etc. and is updated periodically.
Nancy sez: "If it isn't in this book, it probably can't be installed in Richmond. "

What: Give input on MTC's Regional Transportation Plan
Date: Friday April 22, 2011
Time: 8:00 a.m.
Place: City of San Pablo Council Chambers, 13831 San Pablo Ave. 94804
Flyer: Click here for all four locations and contact information.

Per Nancy: "...rare opportunity to give input on MTC's Regional Transportation Plan, which guides how transportation funds are spent for the whole Bay Area.
In the past, only government agencies have had input -- this is the first time that "non-governmental organizations" have been specifically invited.
My sense is that the decision-makers at the MTC level have very little sense of how the community feels about how it gets around the Bay Area -- and you can let them know what you think. This could be eye-opening for them. There are 4 meetings in different parts of Contra Costa County, hope you can make it to the one nearest you. Please pass this along and encourage your friends and neighbors to attend."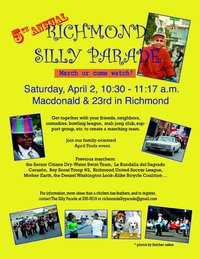 5th Annual Richmond, CA Silly Parade
Bring your bike and join either the Slimm Buick art bike float or the Richmond Spokes bike contingent . Or...be your own silly group.
Date: Saturday, April 2,2011
Time: 10:30 am to 11:17 am
Place: the corner of 23rd & Macdonald
Details>>
Let's grow this silliness into the big deal it deserves to be!!
Comments due March 1st on The Draft Traffic Safety Study done by the City of Richmond's Engineering Department !
Click here to download a copy.
Send your comments to Steven_Tam, Engineering Dept.
FREE Pedestrian and Bicycle Information Center Webinar
The Pedestrian and Bicycle Information Center, along with the Federal Highway Administration, will provide an overview of tools available to communities to enhance walking and bicycling in their local area.
Tuesday, March 1, 2011
11:00 1.m. - 12:30 p.m. EP.S.T.A
CLICK HERE FOR THE FLYER with complete registration information


What: FREE Complete Streets Training Workshop
Date: Wednesday, March 16, 2011
Time: 8:30 a.m. - 4:30 p.m.
Location: City Council Chambers Civic Center Campus 440 Civic Center Plaza Richmond, CA 94804
Registration : Click here to register before March 4th
Flyer: Click here for the flyer with complete information
Join us for an interactive workshop presented by the Healthy Transportation Network aimed at providing the latest bicycle and pedestrian design tools to community advocates and practicing transportation, planning, engineering and design professionals. Highlights include:
A one-hour "walkabout" with instructors to discuss design concerns and solutions.
Presentations on

Complete Streets,
Safe Routes to School and Pedestrian Safety
Innovative designs, including bicycle boulevards, trails, road diets, roundabouts and crossing treatments.
Contact: Nancy Baer,
MSW, Manager Injury Prevention & Physical Activity Promotion Projects Contra Costa Health Services
597 Center Ave. Suite 115 Martinez, CA 94553
925-313-6837 phone
11/15/10 Richmond Confidential Richmond residents put a new spin on bicycle art by Kerri Connolly
Click here for the Bicycle Master Plan Page.
Mark you calendar: Dec 2nd, Richmond Planning Commission will consider approval of the Richmond Bicycle Master Plan. Details to follow.
Highly Important! Ohlone - Richmond Greenways gap closure final public outreach meeting (does the employment center jeopardize the bikeway?)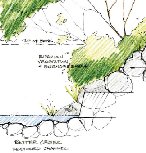 Where: 440 Civic Center Plaza, downstairs from city council chambers, Multipurpose Room
Date: November 18, 2010
Time: 6:00 - 7:00 p.m.
Contact: Joel Comacho, Engineering (510) 620-5482

Click here to download the postcard

Great News from TRAC: 8/18/2010 The City of Richmond now has the total funding needed to connect Shipyard 3 Bay Trail to Brickyard Cove Rd. and Ferry Point . Both projects are scheduled for completion Spring 2011.
Click here to learn about the design and construction projects now underway to close the final gaps in the Ferry Point Loop.
Click here to download the elegant Ferry Point Loop Trail Guide.
NEW: RBPAC bike plan photos / North Richmond tour on facebook Click here>>
NEW: RBPAC BTWD 2010 photos on facebook Click here>>
Sat, Jan 15, 12 Noon to 5 PM: Bicycle Art Salon Grand Opening Reception at Bridge Art Space - Bikes, Art & Music! - Details >>
The First Review of the Bicycle and Pedestrian Plans
What: The first formal presentation of the Draft Bicycle and Pedestrian Master Plans
Where: Richmond Planning Commission; agenda
Date: December 2, 2010
Time: 7:00 p.m.
Location: City Hall Chambers, 440 Civic Center Plaza, Richmond, CA 94804
Contact: Kieron Slaughter 510.620.6887
For the bicycle plan draft files on the city website click here (and scroll down the page)
For the pedestrian plan draft on the city website click here
To watch the meeting live on KCRT click here
if you missed it and need to find it in the Video Archive click here
Comment period for the Ped Plan closes December 7, 2010 at 5:00 pm. Comment verbally, via email or in writing to Kieron Slaughter , 510.620.6887
Comment period for the Bicycle Plan closed on November 19th.
Where can you get more information about this project? The complete files for both projects are available for public inspection at the Planning Division weekdays during the hours of 8:30 AM and 4:00 PM. You can also find out more about the project by calling Kieron Slaughter , 510.620.6887

Annual Pavement Rehabilitation Project from the City Mgr's report ending Oct 7, 2011

Chrisp Company has completed laying out the traffic striping and will begin installing permanent final traffic striping on the 30 segments of recently slurry-sealed streets in the next few weeks. More notably, elements from the Bicycle Master Plan will be incorporated on the following street segments:
| | | |
| --- | --- | --- |
| Street | Limits | Bike Element |
| Carlson Boulevard (northbound) | Bayview Avenue to Cutting Blvd. | Bike Lanes |
| S. 37th Street | Ohio Street to Wall Avenue | Bike Sharrows |
| Wall Avenue | S. 39th Street to East End | Bike Sharrows |
| W. Nevin Avenue | West of 1st Street to West of C St. | Bike Sharrows |
| W. Barrett Avenue | West of A Street to West of 6th St. | Bike Sharrows |
Note that Carlson Boulevard's bike lane striping will be deferred until after environmental clearance has been received and after the Bicycle Master Plan is adopted by City Council, scheduled for November 1st.
What: SAVE THE DATE!!! The Bicycle Master Plan and the Richmond Pedestrian Plan are slated to go to the City Council for adoption.
When: Nov, 1, 2011 Council meeting starts at 6:30.
Where: Richmond City Council Chamber s
440 Civic Center Plaza
Richmond, CA 94804
Contact: Nancy Baer 510 525-9699 Postcard: English version (PDF) Spanish version (PDF)
What: Ohlone Trail / Richmond Greenway Gap Closure Meeting (Important!!) Outreach convened by Cities of Richmond and El Cerrito- Please note, the 5/27 session conflicts with the Ped Plan wrap-up, so we suggest attending the June 1 meeting
When: Tuesday, June 1, 2010 * 7:00 - 8:30 p.m.
Where: El Cerrito City Council Chambers * 10890 San Pablo Avenue * El Cerrito, CA
Contact: Christina Jirachachavalwong, Public Outreach Consultant
VALLIER DESIGN ASSOCIATES, INC., 210 Washington Ave., Suite G, Richmond 94801
Phone: 510.237.7745
Postcard image with details Press Release
May, 2010 is a huge month for Bike/Ped Plan Outreach, and your input is crucial!
PEDESTRIAN & BICYCLE COMMUNITY PLANNING EVENTS
Wed, May 12, 6-8 PM: PEDESTRIAN PLAN COMMUNITY MEETING
Sat, May 15, 9 AM - 5 PM: BIKE RIDE & WORKSHOP
Wed, May 19, 5 - 8 PM: WALKING WORKSHOP
Sat, May 22, 9 AM - 1 PM: WALKING WORKSHOP
Thu, May 27, 6 - 8 PM: CLOSING COMMUNITY MEETING
DOWNLOAD THE FLYER >> BIKE PLAN PAGE>>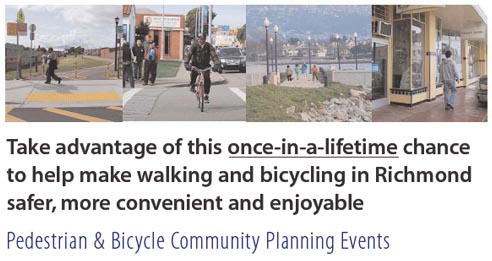 NEVIN AVENUE PEDESTRIAN IMPROVEMENT PROJECT COMMUNITY MEETING (latest developments)


Date:

Wednesday, MAY 26, 2010


Time:

6:00 - 8:00 P.M


Where:

403 Civic Center Plaza, Richmond Auditorium, Drummond Room (enter from Nevin), RICHMOND, CA 94804 Details
BICYCLE MASTER PLAN PAGE >>
Richmond Bike to Work Day Picnic at Marina Bay May 13th, 12-1:30pm
Join SunPower, City of Richmond, and Richmond Spokes on Bike to Work Day for a brown bag picnic at Marina Bay Park (at the Rosie the Riveter memorial)! We will have contests for track standing, slowest rider, and quickest change of a flat tire! We'll also brainstorm to make 2011 Bike to Work Day in Richmond the best ever! A group ride to Marina Bay will leave from Civic Center (450 Civic Center Plaza) at 11:40 am. Bring your own lunch. Click for details
Richmond Energizer Stations - May 13th, 6-9am
* Bay Trail (at Marina Bay Park)
* Richmond BART/Amtrak (1551 Nevin)
* Greenway (Ohio x 15th)
* Ohlone Greenway/Richmond Greenway Junction (San Pablo Ave south of Macdonald)
What: EBBC Velo Wonderland: Bike & Art Party
When :Dec. 4, 2009, 6:00 -10:00 pm
Where: Uptown Body & Fender, 401 26th St., Oakland
Cost: FREE FREE FREE Bring a friend!!!
Click on the poster to enlarge. Information>>
After a fantastic year, EBBC's ready to celebrate with fellow cyclists. Enjoy beer from Linden St. Brewery along with some tasty treats. DJ Olga T will be spinning music all night long. Ride the pedi-cab to nearby Art Murmur galleries to see bicycle-themed and recycled art. WOW!
What: Community Workshop Nevin Ave (ped/bike) improvement project


When:

WEDNESDAY, DECEMBER 2, 2009; 6:00 - 8:00 P.M.


Where:

RICHMOND CITY HALL
ROSIE THE RIVETER CONFERENCE ROOM; 450 CIVIC CENTER PLAZA; RICHMOND, CA 94804


Questions:

Chadrick Smalley 510.412.2067
Click to see the English / Spanish flyer>>
Click here to hear KQED radio segment about watching the Tour de France at the Catahoula Cafe, our local roastery!! Fun!!
7/15/2009 The draft of Richmond's updated General Plan has been released for public review. Go to the General Plan web site to view. Of interest to cyclists are the Circulation Element, the Health Element, and the Parks Element. Please also visit our bike/ped plans page. DVD copies of the plan are available for $5.00 on the second floor of City Hall.
Deadline for written comments has been extended to 9/30/09.
Send written comments to : Lori Reese-Brown ,

Principal Planner, COR Planning Div., 450 Civic Center Plaza, 2nd Floor, Richmond, CA 94804
The City of Richmond, in collaboration with the West Contra Costa Unified School District and Contra Costa Health Services, is hosting two community workshops to solicit input for neighborhood improvements in the Iron Triangle and Belding Woods neighborhoods. Please attend to advocate for safe biking and walking. Oct 7 bilingual flyer Oct 14th bilingual flyer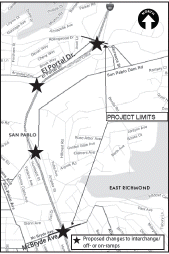 What: Public comment on the IS/ EA for the I-80/San Pablo Dam Road Interchange Project.
Date: Wednesday, 8/19/09
Time: 6:00 to 8:00 p.m.
Where: Maple Hall, 13831 San Pablo Avenue, San Pablo, CA.
The meeting will begin with an open house, followed by a brief presentation and then a public
comment period.
Click here for the announcement
Click here for links to plan info & maps from the San Pablo website. For Further info see the bike/ped plans page
Take a look at the EBBC Letter of support for AB 652 Please send your own letter!
What:

Jeff Mapes to discuss his book, Pedaling Revolution: How Cyclists Are Changing American Cities


When:

Monday, July 20
7:00-8:30pm


Where:

Wurster Hall, UC Berkeley
Free Admission
" Bike East Bay and Institute of Urban and Regional Development/University of California Transportation Center are pleased to host author Jeff Mapes to discuss his book, Pedaling Revolution: How Cyclists Are Changing American Cities . The book explores the growing urban bike culture that is changing the look and feel of cities across the U.S. Not only for cyclists, this talk will inspire anyone engaged in transportation, urban planning, sustainability, and public health--and drivers trying to understand why they're seeing so many cyclists." Books will be offered for sale.
7/5/09 Bay Trail openng at Ford Point and Boilerhouse Restaurant opening/fundraiser for Livestring at the Craneway Pavilion.
TRAC's e-mail invitation The newest Richmond Baytrail map & fact sheet LiveStrong Foundation
6/27/2009 Fourth Richmond Spokes Reality Ride: Carlson Blvd and 23rd St
Announcement Map
6/9/2009 Actia Half Day Bicycle/Pedestrian Conference
flyer
5/23/09 Slides how of Third Richmond Spokes Reality Ride; Barrett Ave. Slide show & report Announcement
5/14/2009 Slide show of Bike to Work Day Slide show & reports
4/8/2009 Orientation: MTC- Count Pedestrians and Bicyclists Read more
3/29/2009 Slide show of First Richmond Spokes Reality Ride Slide show & report